Where To Stay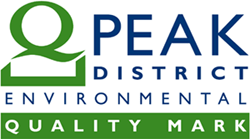 Environmentally Friendly Accommodation - Holders of the EQM (Environmental Quality Mark), where care and quality come togetherin accommodation that looks after you and the Peak District.
These welcoming hosts have made an extra effort to conserve the natural environments you come to enjoy.

Acclimbatize Outdoor Adventure Activities for Delivery to age groups of under 18 years - Steep & Deeps older sister!
www.acclimbatize.co.uk
---
April Cottage - Youlgrave.
Tel 01629 636151
www.whitepeakcottage.co.uk
April cottage is a 200 year old self catering cottage in proximity to 3 village pubs.

---
Beechenhill Farm - Ashbourne
Tel: 01335 310274 -
www.beechenhill.co.uk
Two ensuite B&B rooms and a family room. Also a wheelchair accessible cottage for 6. locatated at a working dairy farm

---
Blakelow Farm Holiday Cottages Matlock
Tel: 01629 650814
www.blakelowcottages.co.uk
3 Romantic cottages offer peace and a stunning location to savour the Peak District and all it has to offer.
Luxury award winning 5 - star accommodation with an environmental smile

---
BoleHill Cottages
Tel: 01629 812359
www.bolehillfarm.co.uk
8 self catering cottages situated in stunning countryside near Bakewell, Chatsworth and Haddon.
Great central Peak District location
---
Churchdale Holidays - Ashford in the Water
Tel 01629 640269
www.churchdaleholidays.co.uk
3 cottages sympathetically converted from old stone cart sheds. Ideally located near to Monsall trail.

---
Derwent House - Matlock
0114 2356199
www.derwent house .co.uk
Sleeping up to 12 guests in an elegant and luxurious Georgian property offering short breaks and longer stays.
Located in the centre of an historic spa town

---
Hoe Grange Holidays Brassington Matlock
Tel 01629 540262
www.hoegrangeholidays.co.uk
Four luxurious self catering log cabins with stunning views of the beautiful limestone countryside.
Relax in a log fired swedish hot tub!
Contact David or Felicity Brown
---
Ladybower Appartments
Tel 01433 651361
www.ladybowerappartments.co.uk
Superb 5 star self catering in former pump house for Lady Bower Reservoir.
Located in the upper Derwent Valley famed for Dambuster training and at the foot of Kinder Scout and Bleaklow (The two two highest areas of open moorland in the area)
---
The Nightingale Centre
Tel 01298 871218
www.the nightingalecentre.co.uk
THE holiday and conference centre at the heart of the Peak District, sleeps up to 67 people.
The centre can accommodate individuals and groups.
Offers fabulous food, spacious gardens and a childrens play area.
---
Party Houses
Tel 01538 383099
www.partyhouses.co.uk
Party Houses offer considerately renovated self catering accommodation in stunning settings across the White Peak.
The smallest house sleeps 11 - the largest welcomes up to 40 guests.
Great places for family functions re unions and celebrations.
---
Shatton Hall Farm, Bamford
Tel 01433 620635
www.peakfarmholidays.co.uk
This unspoilt upland farm is managed to enhance wild plant, butterfly and birdlife, and is accessed by way marked trails.
3 comfortable stone cottages.
---
Underleigh House
Tel 01433 621372
www.underleighhouse.co.uk
Prestigous B & B in stunning location. Great walks from the door Regional winner of best B & B in the East Midlands.
Contact Phillip and Vivienne Taylor

---
Wheeldon Trees Farm Cottages
Tel 01298 83219
www.wheeldontreesfarm.co.uk
Nine award winning self catering cottages in a stunning traditional stone barn conversion, restored and run with the environment in mind.
Sleeps 30 in total with communal games and dining hall.
---


CAMPING and BUNKHOUSES
TEL 01629 650245
www.barnfarmcamping.com
Simply the best general campsite in the southern Peak District.
Festival vibe at weekends in the summer - tranquil during the week.
Excellent facilities and brilliant bunkhouses for party groups.