Trekking
Steep and Deep staff are available to support mountain expeditions throughout the UK and worldwide. Members of our staff team hold the International Mountain Leaders Carnet or have qualified under the UKMLTB Mountain Instructors Scheme.
We offer training in many aspects of mountaineering. Courses can be structured around your learning objectives or sporting objectives taking into account any pre existing skills.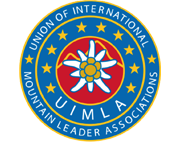 Skills for the Hills
This two day course is designed to equip you with the knowledge and confidence to stride out into wilderness areas of Britain, independently or as a valued member of a small team.
This course covers personal equipment, weather for hill walkers, route planning, navigation, hazards and emergency procedures.
The majority of the course will be spent outdoors in wilderness terrain, the navigational training includes use of grid references, conventional signs, measuring distance, interpretation of contours and the identification of topographical features.
Students will be coached in the use of a compass to aid navigation in poor visibility and in conditions of darkness.
Navigation with handheld GPS
In recent years GPS (Global Positioning System) has become a popular method of navigation.
Our GPS includes:
♦ Proficiency with a map and compass as a foundation in the event of technology failure.
♦ Transferring information to and from a map to a GPS.
♦ Limitations of the GPS system - Receivers need a clear view of the sky for satellite acquisition. This can be difficult if the unit is carried in your pocket.
♦ GPS transit - the receiver has a clear view of the sky allowing it to track your position accurately.
♦ Plotting in waypoints on a route. So that if you wish to collate these points as a route later it is easier for you to remember the order.
---